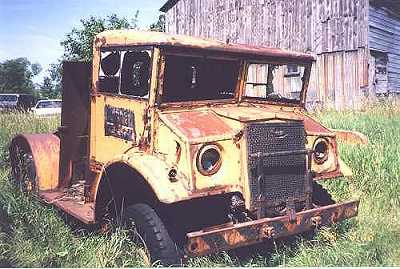 I know, I know.... this looks like hell! It's not really, though... actually, it has a beautiful frame - under several helpful layers of orange paint and hardened undercoating, the original khaki green paint is good, with virtually no pitting and very little surface rust. Although not shown here, it came with a wealth of mechanical and body components, including a useable 2C1 box.

Needed for the process is a clamshell-type spare tyre carrier - even a bad one just good enough for a pattern. Also, I'm officially in the market for some better cab components, (although I'll reskin as necessary), as well as a set of data plates. If you can help, please drop me an email!

(Hey, it's MY site and I can advertise if I want! )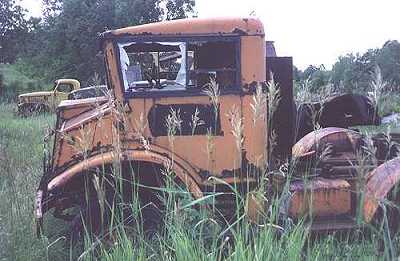 While I'd like to see this vehicle on the road again sometime this year, I anticipate completion by late spring of 2001, depending on available time. It's interesting to note that trucks in a condition such as this would have been largely ignored a decade or so ago; but we have to recover whatever's there now. BTW, I'll happily consider purchasing a second wreck for parts if price and location are right...let me know!

Rhetorical question: I know for a fact that many good CMPs have been recovered in the last 15 years, but few if any are ever seen... just where are they, who's holding them, and are they being restored, or simply hoarded? Your comments are invited...