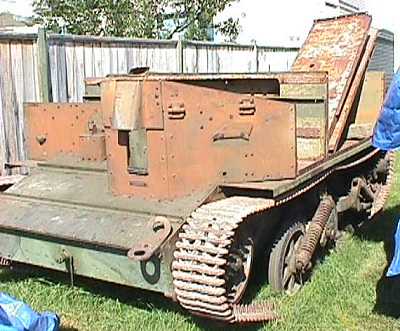 This carrier is rough... but it ought to be. It's been out in the weather for years, and the side armour and miscellaneous boxes were even dug out of a landfill!

This is a basic Mk.I* carrier, manufactured by Ford of Canada in Windsor, Ontario. The side armour can be seen in the crew compartment at the back. One wonders why the original armour was removed at all... usually the front armour is the first to go in 'civilianization'.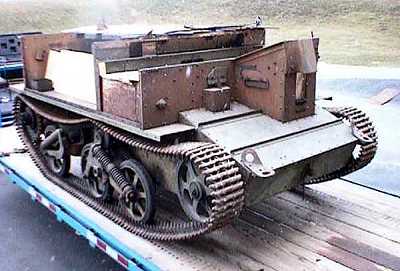 At that point, Jim Burrill from Pennsylvania concluded a deal for the wreck. Here it's shown on arrival at his place. Jim is active in the re-enactment circuit, and will use this machine accordingly. It joins his 1943 Chev C15A and a C8A Heavy Utility Personnel he has purchased for restoration.

Jim is seriously considering converting this carrier to the Vickers MMG configuration - something that we have in mind as well. There is plenty of documentation available in support of this conversion, and it would be unique!

Watch this space for further coverage of the restoration process. Thanks, Jim, and good luck!